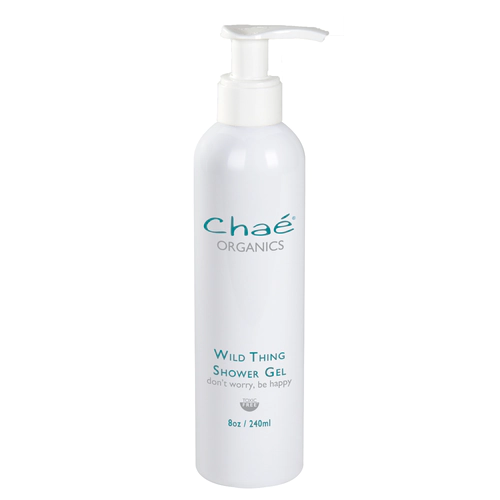 Wild Thing Shower Gel – Citrus & Vanilla
Citrus & Vanilla give your shower and senses a wild experience
Cationic charged ingredients immediately bind to moist skin, supporting resistance against the effects of chemical additives in water
Soothing, nutrient-rich cleansing gel can assist to improve skin's health and hydration
Made with naturally-derived and biodegradable ingredients
Scintillating scent frees your senses
Description
Free your skin and your senses with Wild Thing Shower Gel 8oz. This deeply refreshing, detoxifying botanical cleanser. Specially formulated for swimmers or for those bathing in chlorine-treated water, this cleanser doesn't just feel refreshing—its cationic charged ingredients can support your skin's cleansing mechanisms by binding environmental chemicals such as chlorine so they can be instantly washed away. Skin is left super-clean, refreshed, and hydrated thanks to our nutrient-rich blend that encourages moisture retention. Fight the drying effects of swimming or exposure to daily environmental pollutants, and enjoy clean, soft skin with a fresh, delicate scent. Feel free and get wild!
Introducing our Wild Thing Shower Gel in the tantalizing scent of Citrus & Vanilla, a refreshing and invigorating journey for your senses. Embrace the wild side of showering as you embark on an aromatic adventure that leaves you feeling revitalized, rejuvenated, and ready to take on the world.
Envelop yourself in the zesty embrace of Citrus & Vanilla, an exquisite blend that combines the uplifting essence of citrus fruits with the sweet and comforting aroma of vanilla. This delightful fusion creates a captivating symphony that awakens your spirit and transports you to a carefree oasis of bliss.
Crafted with the finest ingredients, our Wild Thing Shower Gel boasts a luxurious lather that gently cleanses away impurities, leaving your skin feeling nourished, soft, and delicately scented. Immerse yourself in the opulent foam that embraces you with a gentle caress, transforming your daily shower into a soul-reviving experience.
The harmonious combination of citrus and vanilla not only captivates your senses but also boasts natural mood-boosting properties. Energize your mornings with the invigorating zest of citrus, and unwind in the evenings with the soothing and comforting notes of vanilla.
Formulated with care, our shower gel is free from harsh chemicals, parabens, and sulfates, ensuring a gentle and safe cleansing ritual for all skin types. Embrace the luxury of self-care with every shower and elevate your bathing experience to new heights.
Indulge in the Wild Thing Shower Gel – Citrus & Vanilla and let your senses dance with joy as you embrace the wild within. Experience the magic of an enchanting shower that invigorates, moisturizes, and transports you to a world of pure delight. Treat yourself to this exquisite shower gel and make every bathing moment a celebration of self-indulgence and serenity.
8oz
How to Use
Directions:
Apply to wet skin and lather. For additional suds, use a sponge or loofah. Add to running bath water for a relaxing, nurturing bath. Gentle enough for babies and people with sensitive skin.
Toxic Free Ingredients
Aloe Barbadensis (Aloe Vera) Leaf Juice*, Purified Water (Aqua), Decyl Glucoside (Mild Coconut Derived Cleanser) (1), Vegetable Glycerin**, Cocamidopropyl Hydroxysultaine (Natural Coconut Sudsing Agent) (1), Capryly/Capryl Glucoside (Coconut Derived) (1), Coco-Glucoside (and) Glyceryl Oleate (Coconut & Sunflower Oil Derived), Citrus Aurantium Dulcis (Sweet Orange) Oil (and) Citrus Aurantium Dulcis (Blood Orange) Oil (and) Citrus Aurantium Bergamia (Bergamot) Fruit Oil FCF (and) Vanilla Planifolia (Vanilla) Fruit Oil (and) Cocos Nucifera (Coconut) Oil*, Lactobacillus (and) Cocos Nucifera (Coconut) Fruit Extract (Fungicide) **, Mentha Piperita (Peppermint) Oil*, Guar Hydroxypropyltrimonium Chloride (Highly Charged Cationic Polymer), Xanthan Gum**, Plant Extracts (and) Malic Acid (Vitamin E, Bio-flavonoids, Polyphenols, Natural Plant Sugars and Organic Acids derived)
* Organic **Ecocert and/or Internationally Approved (1)NOP – NSF Organic Compliant/Ecocert Compliant
Hero Ingredients
Aloe Vera (Aloe Barbadensis) Leaf Juice
Maintains the highest levels of polysaccharides, amino acids, and minerals.
It is an acetylated polymannose known as Acemannan, whose structure and functional effects have been very well established.
Cocamidopropyl Hydroxysultaine
Derived from Coconut.
Bio-degradable and self-preserving.
Superior foam quality.
Excellent for hard water conditions.
Decyl Glucoside
Obtained from 100% renewable vegetable origin.
Maintains skin balance without dryness.
Good foaming power.
Readily Biodegradable
Q & A
There are no questions yet