Sale!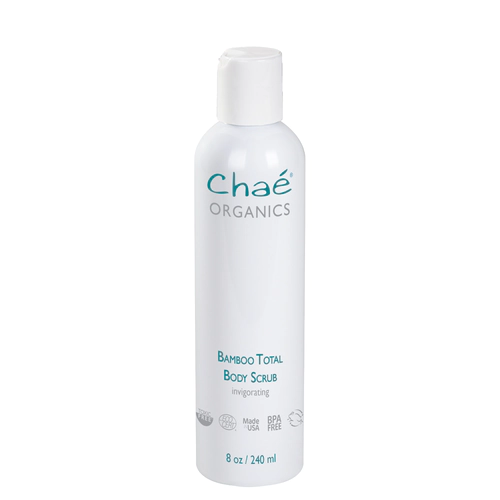 Mild Exfoliation
Exfoliates gently; safe for everyday use without harm to living skin cells
Helps to clear blocked pores, which cause blackheads and blemishes
Smooths around hair follicles for a closer shave
With repeated use, can help loosen and remove dry, dead skin, scaliness and calluses
Softens skin and prepares it for moisturizing
Description
Our Bamboo Total Body Scrub 8oz is a unique bamboo blend that brightens and softens skin, leaving it fresh and supple. One of our most popular exfoliators, this cleanser uses sustainably harvested bamboo stem extract to restore the skin's strength while removing dead cells that can weigh you down. With an incredibly fine pumice grit and added exfoliation from rice-derived phytic acid, this is no ordinary exfoliator. Use it everywhere to brighten and even your skin's texture, clear clogged pores, even prepare skin for a smoother shave.
How to Use
Directions: Exfoliate daily, or at least three times a week, for healthiest skin. Apply Bamboo Total Body Scrub to dry skin. Massage, then rinse away. For added suds in the shower, use a loofah after applying the scrub to your skin. Follow with moisturizer.
Toxic Free Ingredients
Aloe Barbadensis Leaf Juice*, Purified Water (Aqua), Cocamidopropyl Betaine, Cocamidopropyl Hydroxysultaine, Vegetable Glycerin, Sodium Cocyl N-Methyl Taurate, Pumice, Bambusa Arundinacea Stem Extract, Glycol Stearate, Xanthan Gum, Phytic Acid, Glyceryl Stearate SE, Juglans Regia Shell Powder, Benzyl Alcohol, Ethylhexylglycerin, Hydrolyzed Guar*, Stearamide AMP, Benzoic Acid,  Cetyl Hydroxyethylcellulose, Dehydroacetic Acid, Tocopherol,  Inulin, Cocos Nucifera Oil, Citrus Aurantium Dulcis Oil*, Citrus Aurantium Bergamia Fruit Oil FCF*,  Vanilla Planifolia Fruit Oil.
*Organic
Hero Ingredients
Bambusa Arundinacea (Bamboo) Stem Extract

Exceptionally mild and effective exfoliator.

With over 70% silica content Bamboo extract is the richest known source of naturally occurring organic silica.

Silica is one of the important components in connective tissue. It is necessary for bones to fix calcium & improves the texture of collagen and therefore, the suppleness of the body tissue.

Renewable, sustainable, and beneficial resources.

Pumice (Gentle Fine-Grained Exfoliant)

Gentle exfoliant to help remove dead skin cells.

Helps clean pores.

Restores skin vibrancy.

Assists in removing makeup.

Assists in the removal of everyday pollutants from the skin.

Phytic Acid (Rice Derived)

Derived from Rice.

Natural exfoliant.

Gentle keratolytic activity (loosens and sheds callused, hardened, and scaly skin) for skin and scalp cellular regeneration.

Free radical scavenger