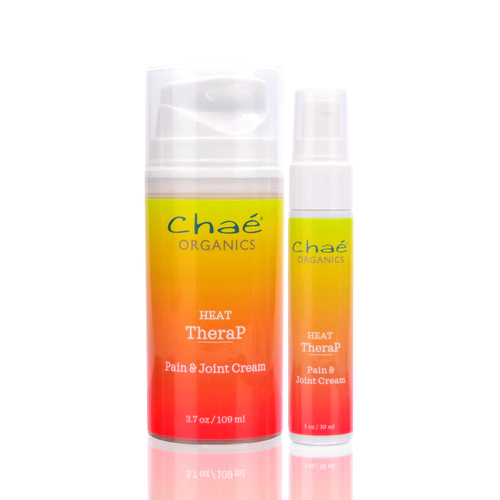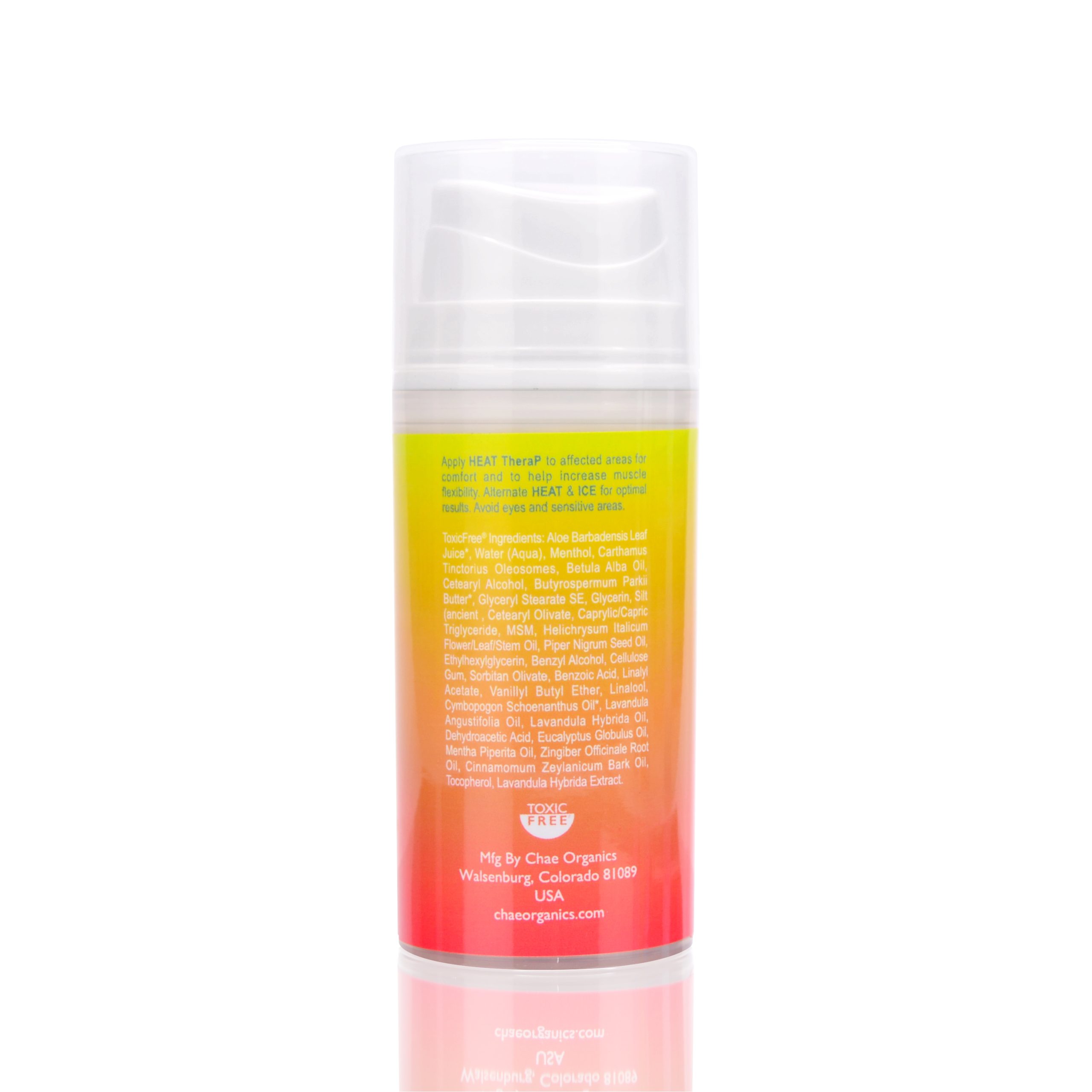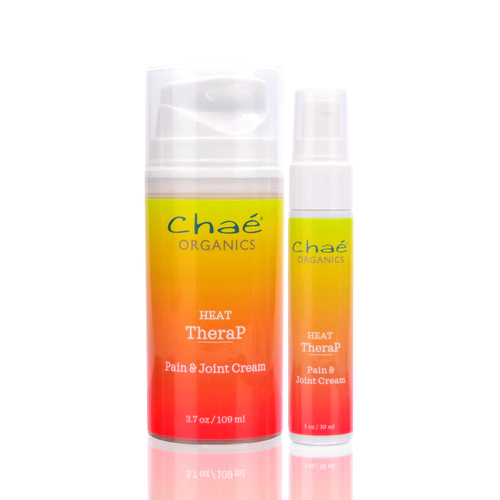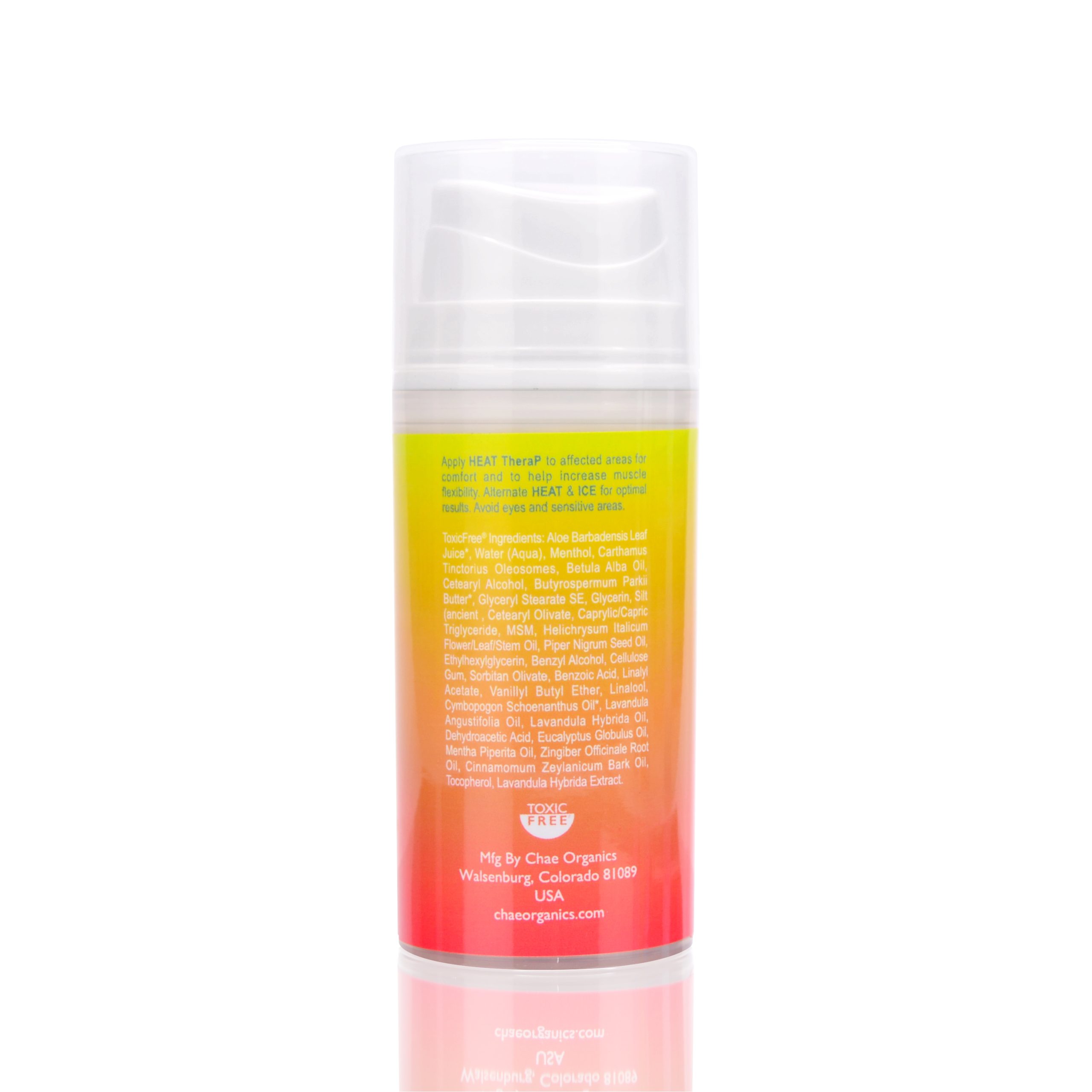 HEAT TheraP – Pain & Joint Cream
HEAT TheraP Muscle and Joint Cream
Improve your comfort with this fast-acting cream that provides a soothing warm sensation
where you need it. Initial cooling turns warm within a few minutes. Pocket size available.
Aids the increase of blood flow to relax tight muscles
Numerous essential oils assist in warming the tissues
The formula contains nutrients known to assist the body in recovery
It helps to improve the range of motion in joints
Assists in reducing discomfort in most places
The cream is easily absorbed
Use alternately with ICE TheraP for optimal results
Excellent for athletes and weekend warriors
Will not stain clothing
Avoid getting into your eyes by washing your hands after application
Certified ToxicFree®
Description
Apply HEAT TheraP to affected areas for comfort and to help increase muscle flexibility.
Alternate HEAT & ICE for optimal result. Avoid eyes and sensitive areas.
Ingredients
ToxicFree® Ingredients
Aloe Barbadensis Leaf Juice*, Water (Aqua), Isopropyl Alcohol, Menthol, Carthamus Tinctorius
Oleosomes, Betula Alba Oil (Birch Essential Oil-warming agent), Cetearyl Alcohol,
Butyrospermum, Parkii Butter*, Glyceryl Stearate SE, Glycerin, Silt (ancient), Cetearyl Olivate,
Caprylic/Capric, Triglyceride, MSM, Helichrysum Italicum Flower/Leaf/Stem Oil, Piper Nigrum
(black pepper) Seed Oil, Benzyl Alcohol, Cellulose Gum, Sorbitan Olivate, Benzoic Acid, Linalyl
Acetate, Vanillyl Butyl Ether, Linalool, Cymbopogon Schoenanthus (Lemongrass) Oil*,
Lavandula Angustifolia Oil, Lavandula Hybrida Oil, Dehydroacetic Acid, Eucalyptus Globulus Oil,
Mentha Piperita Oil, Zingiber Officinale Root Oil, Cinnamomum Zeylanicum Bark Oil
(Cinnamon Essential Oil-warming agent), Tocopherol, Lavandula Hybrida Extract.
*Organic
Warming Ingredients
Birch, Menthol, Helichrysum, Black Pepper, Linalyl Acetate, Vanillyl Butyl
Ether, Lemongrass, Eucalyptus, Peppermint, Ginger, Cinnamon
Q & A
What do you recommend for arthritic pain in my fingers? I used to find instant relief with Thera-P Pain & Joint lotion which apparently is no longer available.