Sale!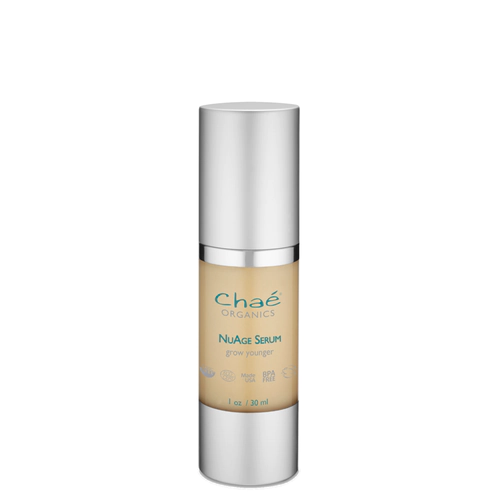 Grow Younger
Encourages firmer, tighter skin 

Powerful key ingredient clinical studies enhance this serums efficacy

Biomimetic peptides ingredients clinical studies indicate boost of production of key components of the dermal-epidermal junction.
Description
NuAge™ Serum 1oz
High tech meets nature in this revolutionary wrinkle-targeting NuAge serum 1oz. Truly going beyond the natural, we have identified a highly active, botanically-derived stem cell activator to give your skin its second youth. This award-winning biomimetic actually mimics the activity of youthful skin renewal.
This Auravedic herb is one of the most advanced ingredients since the discovery of stem cells.
Clinical Results include:
7 days: Reduction in vertical wrinkles volume
7 days: Anti‐wrinkle action on the lip contour
9 days: Increase in keratinocyte growth factor (KGF) production and regenerative effect
28 days: Reduction in lipstick migration if used twice daily
28 days: Increase in epidermis thickness
Effective on all types of skin NuAge Serum supports the skin with firmer collagen skin with fewer wrinkles—even around the lips and in other areas that can lose elasticity. Your skin renews itself through natural function, regaining radiance, suppleness, and the appearance of youth at any age.
How to Use
Directions: Apply NuAge each morning and night after cleansing and toning skin. Can be layered under Chaé moisturizer of choice.
Toxic Free Ingredients
Purified Water (Aqua), Aloe Barbadensis Leaf Juice*, Vegetable Glycerin, Cetearyl Alcohol, Isopropyl Palmitate, Carthamus Tinctorius Oleosomes, Cetyl Palmitate, Carthamus Tinctorius Seed Oil, Sorbitan Palmitate, Microcrystalline Cellulose, Cellulose Gum, Benzyl Alcohol, Santalum Spicatum Seed Oil, Brassica Oleracea Italica Seed Oil, Sorbitan Oleate, Hydrolyzed Verbascum Thapsus Flower, Lecithin, Ethylhexylglycerin, Xanthan Gum, Dimethicone, Ethylhexyl Stearate, Benzoic Acid, Citrus Paradisi Peel Oil*, Hippophae Rhamnoides Fruit Oil*, Dehydroacetic Acid, Sodium Hyaluronate Crosspolymer, Polyglyceryl-4 Diisostearate/Polyhydroxystearate/Sebacate, Sodium Isostearate, Swertia Chirata Extract, Santalum Album Wood Oil, Lavandula Augustifolia Oil, Cananga Odorata Flower Oil*, Maltodextrin, Dextran, Caprooyl Tetrapeptide-3, Sodium Hyaluronate, Phyllanthus Emblica Fruit Extract, Trifluoroacetyl Tripeptide-2, Tetrahydrocurcuminoids, Ferulic Acid, Dipotassium Glycyrrhizinate, Camellia Sinensis Leaf Extract, Tocopherol.
* Organic
Hero Ingredients
Isopropyl Palmitate (and) Lecithin (and) Water (and) Swertia Chirata (Indian Gentian) Extract (Biomimetic Anti-Aging Keratinocyte Growth Factor)

Clinical studies have shown:

7 days: Reduction in vertical wrinkles volume.

7 days: Anti-wrinkle action on lip contour.

9 days: Increase in keratinocyte growth factor (KGF) production and regenerative effect.

28 days: Reduction in lipstick migration if used twice daily.

28 days: Increase in epidermis thickness.

Vegetable Glycerin (and) Water (and) Dextran (and) Caprooyl Tetrapeptide-3

Clinical studies have shown:

This Biomimetic Peptide ingredient boosts the production of key components of the DEJ (dermal-epidermal junction).

It assists in creating optimal skin structural support and activates natural skin rejuvenation.

90% overall positive results in studies after 56 days.

Significant reduction in the appearance of fine lines & wrinkles by 16% after only 28 days.

Optimal skin penetration provides a smoother, firmer & more even skin tone.

Hydrolyzed Verbascum Thapsus (Great Mullein) Flower (Brightening)

Clinical studies have shown:

Increases radiance to skin and hair.

Phyto-complex protects skin by transforming UV radiation into visible light.

Helps protect skin from harmful high-energy UV radiation.

Makes hair look more shiny and healthy.

Makes skin more radiant and youthful.

Reduces the appearance of fine lines and wrinkles.

Ethylhexyl Stearate (and) Sodium Hyaluronate Crosspolymer (and) Polyglyceryl-4 Diisostearate/Polyhydroxystearate/Sebacate (and) Sodium Isostearate

Clinical studies have shown:

Instantly fills fine lines & wrinkles.

Effects are seen within 15 minutes of the first application.

Thoroughly hydrates the skin.

Smoothes skin surface by reducing the number & depth of wrinkles