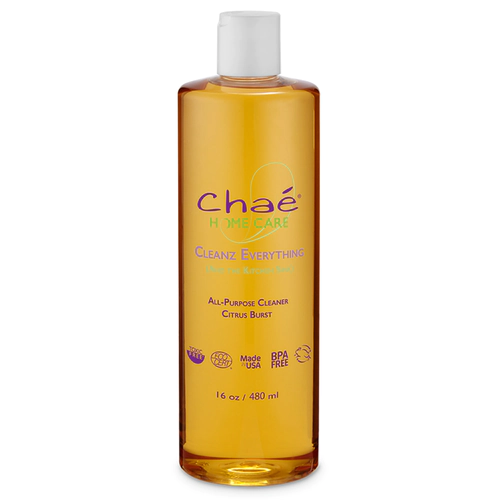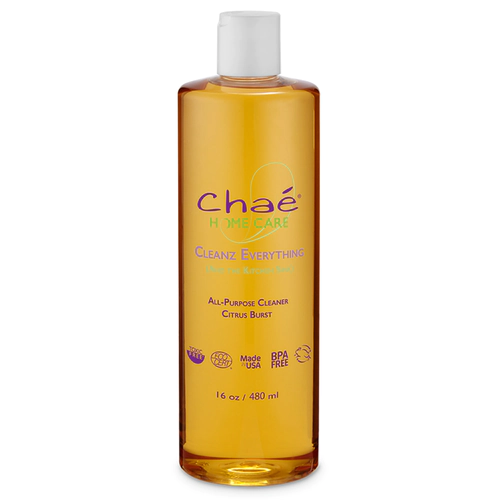 Cleanz Everything Citrus Burst – All Purpose Cleaner
Superstar all-purpose household cleanser replaces many of your cleaning products
Affordable concentrate saves you money and space by replacing at least 13 products
Provides a fresh organic burst of citrus scent making cleaning more delightful
Concentrate yields gallons of glass and surface cleaner 
Cleans most surfaces in the home, including glass, counters, furniture, grease, hard water and stains
NO GLOVES NEEDED: Does not cause skin dryness or redness from use 
No residue left on surfaces to attract dirt, dust and allergens
.
Description
Live clean and ToxicFree® with our super concentrated, all-purpose cleanser. Replace many of your cleaning products with this single, affordable, and effective product. Removes grease, hard water, and tough stains throughout the home, automobile, or office, leaving a light fresh organic burst of citrus.  Add 1-2 drops into 6oz of water for glass and surfaces (2oz bottle yields 27 gallons/ 16oz bottle yields 200-400 gallons of ready-to-use solution. No gloves are needed as this cleanser will not cause dryness or irritation.  Cleanz Everything has a high USDA biobased (biodegradable) rating and is made from Ecocert and ToxicFree® ingredients that are safe for your family, your home, your pets, and the planet. 

It depends on the size of the dropper, but most droppers will give you approximately 30-35 drops of liquid from 1 oz. To help get a more accurate measurement, you can simply measure out 1 oz of liquid and then count the drops.
16oz
How to Use
Directions:
A few drops in 16oz water for windows, for windows, mirrors, jewelry, shoes, and other light cleaning
1 tsp in 16oz water for tile, counters, floors, walls, woodwork, metals, refrigerator and other areas that get grubby
2 tbsp in 16oz water for bathrooms, stovetops, greasy surfaces, stainless steel, dirty floors, lawn chairs and other heavy cleaning
1 tbsp in several gallons of water for toys, garden tools, washing the car and other large jobs
Full strength: use sparingly for stubborn grease, stains and hard water
Toxic Free Ingredients
Purified Water (Aqua), Sodium Lauroyl Methyl Isethionate, Cocamidopropyl Hydroxysultaine**, Vegetable Glycerin**, Lactobacillus (and) Cocos Nucifera (Coconut) Fruit Extract (Fungicide)**, Plant Extracts (and) Malic Acid (Vitamin E, Bio-flavonoids, Polyphenols, Natural Plant Sugars and Organic Acids derived), Citrus Burst (Fractionated Proprietary Oil Blend).
* Organic **Ecocert and/or Internationally Approved
Hero Ingredients
 

Lactobacillus (and) Cocos Nucifera (Coconut) Fruit Extract (Fungicide)

All Natural, non-irritating, effective and multifunctional product. Provides moisturizing and conditioning benefits in hair and skin. Effective in preventing the growth of fungus, specifically yeast and mold, thus providing the perfect addition to any formulation. GMO-Free. No preservatives.

 

Purified Water

Water Softening 2 Charcoal Filters Reverse Osmosis Deionization Ultra Violet Light Continuous circulation of purified water to ensure optimal results.
Q & A
There are no questions yet
You must be logged in to post a review
Log In
| | | |
| --- | --- | --- |
| 5 star | | 0% |
| 4 star | | 0% |
| 3 star | | 0% |
| 2 star | | 0% |
| 1 star | | 0% |
Sorry, no reviews match your current selections