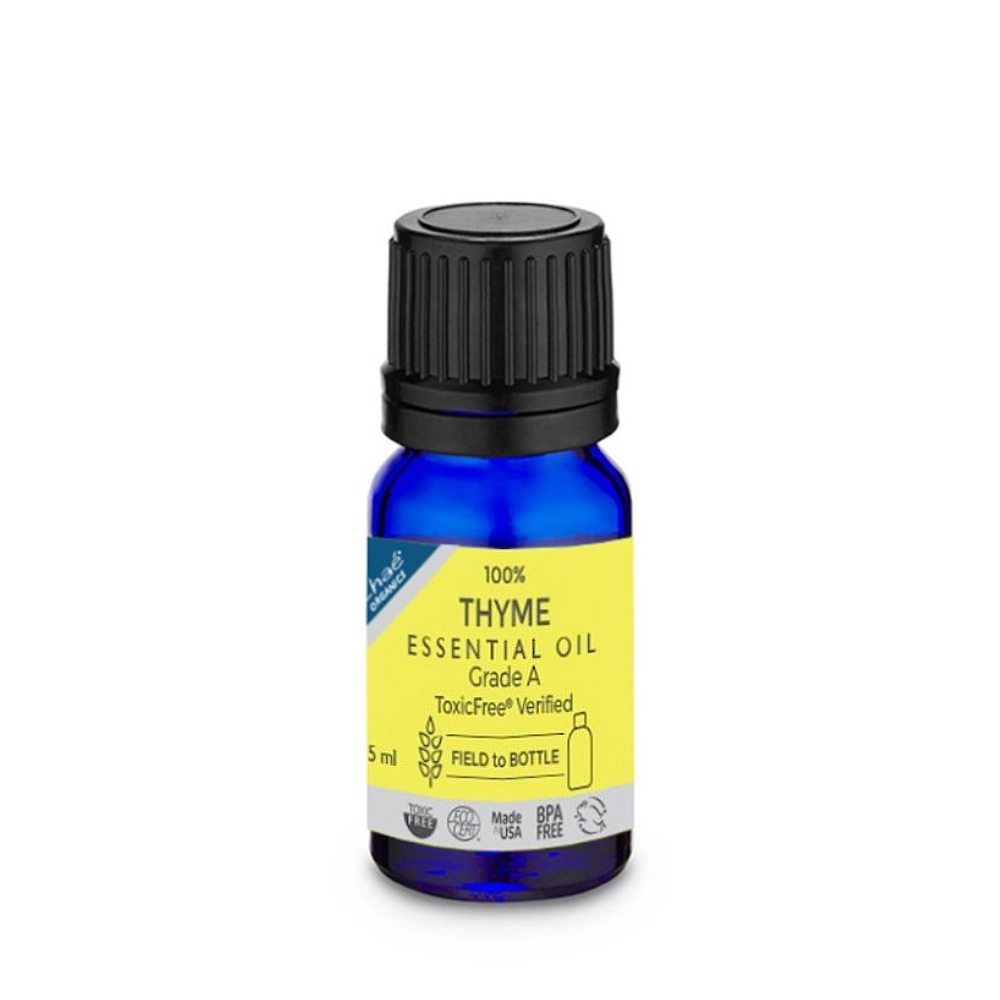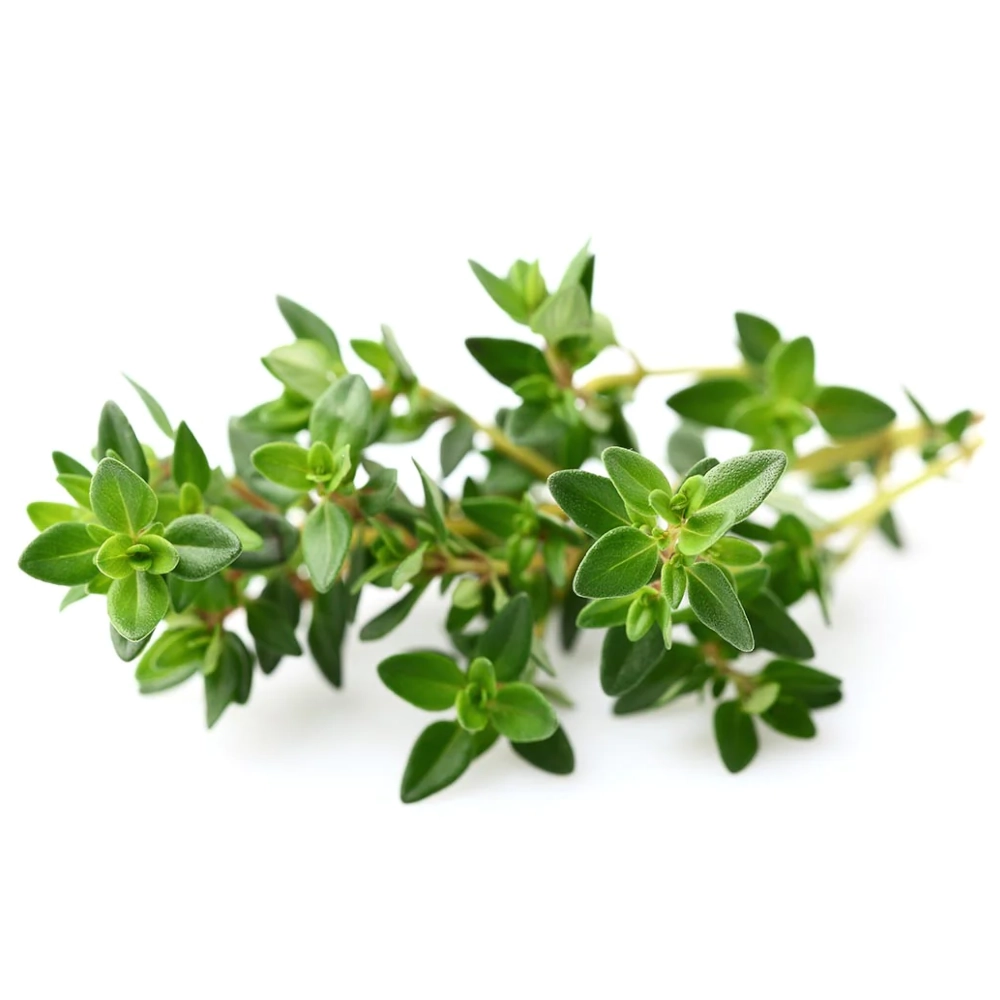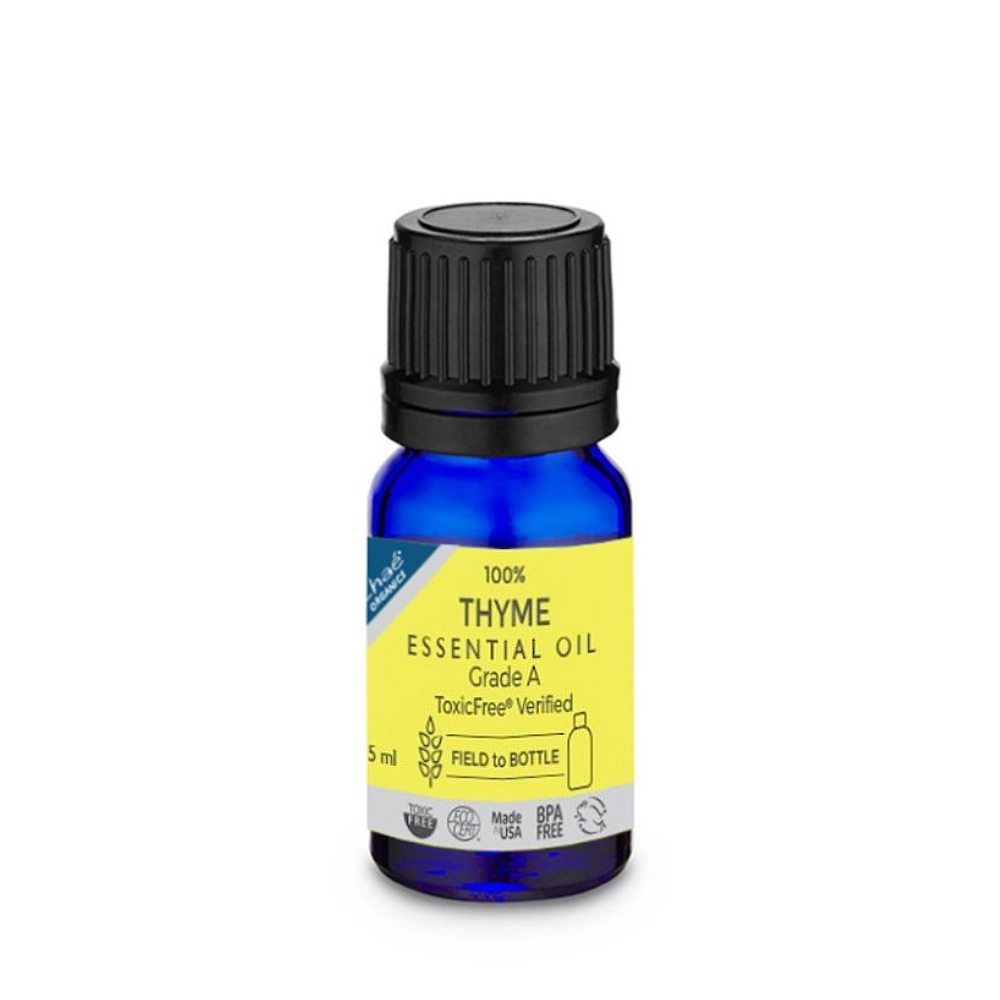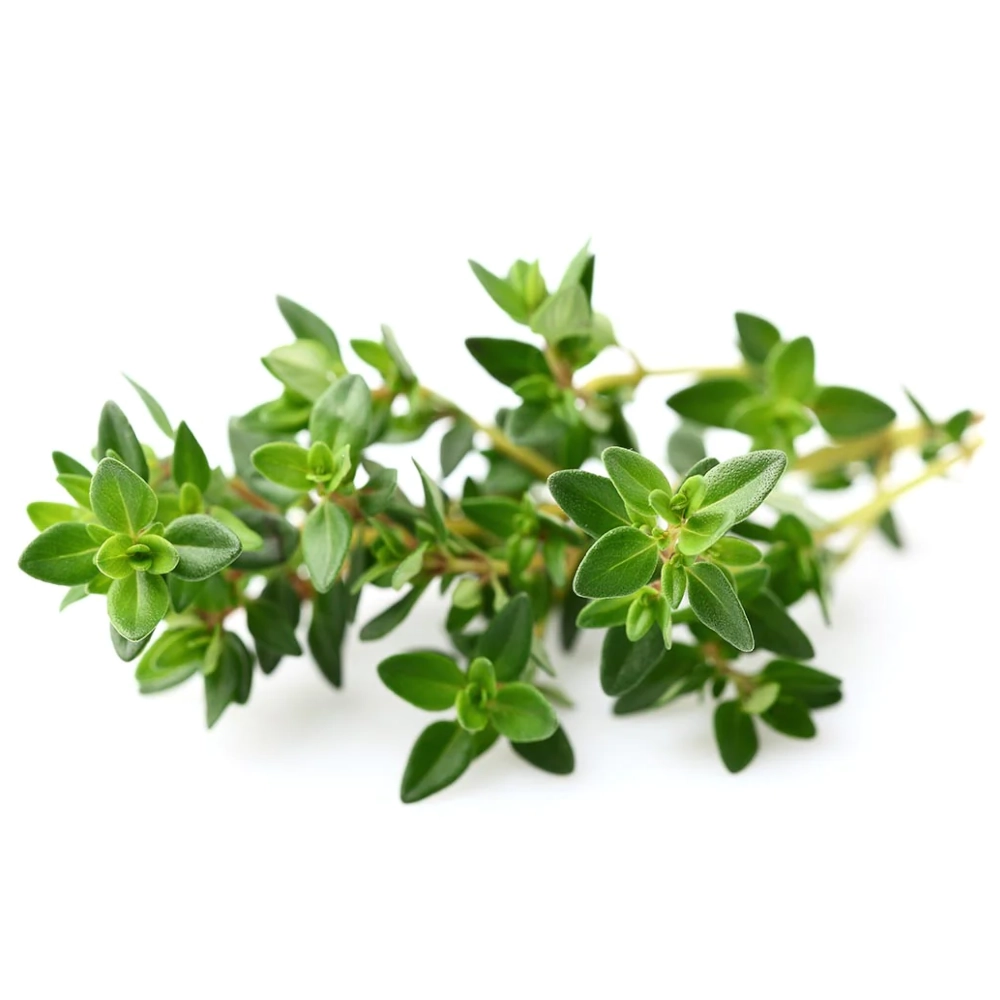 100% Pure Thymus Vulgaris Encourages & Stimulates

Supportive to soothe muscle contractions.

Increased feelings of wellness can restore confidence, instill drive, and invigorate mental-emotional issues.

May benefit the immune system, due at least in part to the thymol and carvacrol conten

t

.

Fortifying and uplifting, it may reinforce functions of the lungs, heart, kidneys, and nervous system.

Aids the digestive system to decrease stomach pain, regulate flatulence, and ease menstrual irregularities.
Not only does Thyme feature very small, delicate curved leaves, but it also develops tiny white or lilac colored flowers that spread in the summer. Thymus vulgaris seems to grow best in dry, stony soil in Native to southern Europe and Mediterranean regions, which makes it the only place ours is grown. Our pure Chaé Organics Thyme Essential Oil is extracted from the partially-dried leaves and flowering tops by water or steam distillation. Thyme's reputation goes back to classical times and has persisted througout history.  Its use includes giving courage to knights going into battle, placed under pillows for bettersleep and to prevent nighmares, for infections and plagues, and  aromatherapy, potpourri, cooking, and cosmetics. It has a complex, wonderfully strong, herbaceous scent that is both sweet and bitter, with a hint of mint and pepper.
5 ml Thyme Essential Oil
Description
Thyme Essential Oil has around 350 different species existing of this strongly aromatic perennial plant grows close to the ground in dense patches and produces the optimal oil when harvesting the fresh fragrant flowers and leaves. Though Thyme has a pungent aroma, it has also been known to be used in aromatherapy and potpourri, and sometimes as a fragrance in cosmetics while still having many beneficial properties.
How to Use
NEAT: Thyme Essential Oil can be used directly on skin, but may be irritating NEAT. NEAT means full strength. Use wisely as it is not appropriate to use any Essential Oil in the immediate eye area or on sensitive areas. It is safe to apply this oil NEAT on the bottoms of feet, palms of hands & wrists pulse points if your physician has given no restrictions on use.
Dilute: Since this Thyme Essential Oil is very POTENT, you will generate beneficial results by diluting it in carrier oil (any vegetable oil you prefer).
Diffuse: Add drops as desired to your diffusing method of choice and enjoy.
Grade-A ToxicFree® Certified
100% Thymus Vulgaris Leaf Oil
Caution: Possible skin sensitivity. Keep out of reach of children. If pregnant or under a doctor's care, please consult your physician.
Leaping Bunny Certified
Since 1996, the Leaping Bunny Program, operated by the Coalition for Consumer Information on Cosmetics in the US and Canada, has been connecting compassionate consumers to cruelty-free companies under its Corporate Standard of Compassion for Animals. Companies must pledge to end animal testing at all stages of product development in addition to recommitting to the program annually and being open to third-party audits.
Weight 0.11875 lbs
Cautions
Pregnancy: There is warranted caution to be very careful during pregnancy. Please consult your physician prior to use. If told not to apply to skin, then inquire regarding permission to smell the Essential Oil.
Phototoxicity/Skin Sensitivity: Even though our Thyme is not considered a photosensitive Essential Oil, it can also be irritating NEAT. It is advised not to apply any Essential Oil on areas that are immediately being exposed to direct UVA, UVB radiation unless highly diluted with a carrier oil. FYI: Besides some Essential Oils, certain prescription medications may also cause photosensitivity. Please consult your physician prior to use if prescribed any potential photosensitivity medications.
Oral: Thyme Essential Oils should never be taken internally unless prescribed either by a physician or a qualified practitioner who has trained & been certified in medical standards.
Caution: Keep Essential Oil bottles out of reach of children. It is prudent for all Essential Oils to carry warnings as they are POTENT and thus require wisdom in discerning when and where to use them. In some countries Essential Oils are used medicinally, hence the reason to be prudent.
Q & A
There are no questions yet
You must be logged in to post a review
Log In
| | | |
| --- | --- | --- |
| 5 star | | 0% |
| 4 star | | 0% |
| 3 star | | 0% |
| 2 star | | 0% |
| 1 star | | 0% |
Sorry, no reviews match your current selections