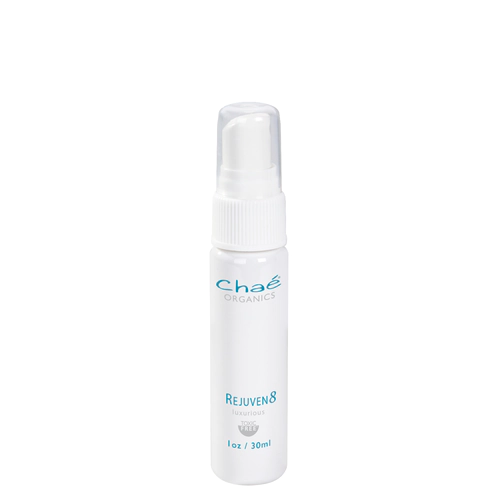 Luxurious
Synergistic blend may help many skin conditions in a single application including: wrinkles, cellulitis, oily skin and hair loss
Contains more than 60 antioxidants, vitamins and nutrients to replenish skin
Encourages lasting moisture
Description
8 luxurious, sought-after oils work together synergistically in this decadent renewing mist with Rejuven8 1oz. Feel your skin soften and de-stress instantly as these powerful botanicals begin their work. Rejuven8 helps promote healthy skin, improving the quality and suppleness of skin that is stressed by dryness, sensitivities, and toxins. Unique actives in this blend have been found to improve a wide array of conditions, including tough-to-treat tendencies such as cellulitis, oily skin and hair loss.
Argan oil
Australian sandalwood seed oil
Seabuckthorn berry oil
Raspberry seed oil
Perilla seed oil • Broccoli seed oil
Meadowfoam estolide
Vitamin E oil
How to Use
Directions: Spray as often as needed to treat dry, flaky, stressed and prematurely aging skin. Also excellent as a carrier oil for dilution of essential oils.
Toxic Free Ingredients
Carthamus Tinctorius Seed Oil, Caprylic/Capric Triglyceride*, Argania Spinosa Kernel Oil*, Santalum Spicatum Seed Oil, Ethylhexylglycerin, Tocopheryl Acetate, Meadowfoam Estolide, Hippophae Rhamnoides Fruit Oil*, Rubus Idaeus Seed Oil, Perilla Ocymoides Seed Oil*, Brassica Oleracea Italica Seed Oil, Jasmine Officinale Flower Oil, Polianthes Tuberosa Flower Oil, Citrus Aurantium Bergamia Fruit Oil*, Natural Flavor, Ethyl Alcohol.
* Organic
Hero Ingredients
Argania Spinosa (Argan) Kernel Oil
Tightens and tones skin
Assists to increases skin firmness and density
Argan oil is a wonderful moisturizer. As this oil is rich in fatty acids, it is better than most moisturizers
Argan oil helps regulate and keep the pH balance of the skin normal.
Helps rehydrate dry and damaged skin.
Santalum Spicatum (Australian Sandalwood) Seed Oil  

Sandalwood Seed Oil contains Ximenynic Acid, which produces microvascular constriction activity or otherwise increases blood circulation in the skin.  This unique activity has been found to reduce cellulitis, oiliness (sebum secretion), and hair loss.



Reduces the appearance of scars and blemishes
Increase dermal micro-circulation
Assists with fat deposition under the skin (adipose)
May reduce wrinkles

Sea Buckthorn Oil (Hippophae Rhamnoides (Sea  Buckthorn Berry) Fruit Oil):    

Support increased absorption through the skin's barrier
Rich in antioxidant vitamin C, vitamin E, and beta-carotene used in anti-aging products
High levels of phytosterols are beneficial in reducing skin inflammation
Phytosterols are considered vital in their ability to improve skin metabolism and reduce inflammation
Sea Buckthorn is very rich in vitamin C (300-1600 mg/100 g), which is 4 –l00 times higher than most vegetables and fruits.
Sea Buckthorn contains vitamins B1, B2, folic acid, C, E, beta-carotene (Pro-vitamin A), and K. It contains Carotenoids, Flavonoids, Phenols, Terpenes, and at least 20 mineral cofactors
Sea Buckthorn contains more than 60 antioxidants and a high ORAC (oxygen radical absorbance capacity) value.
Q & A
There are no questions yet
You must be logged in to post a review
Log In
| | | |
| --- | --- | --- |
| 5 star | | 0% |
| 4 star | | 0% |
| 3 star | | 0% |
| 2 star | | 0% |
| 1 star | | 0% |
Sorry, no reviews match your current selections