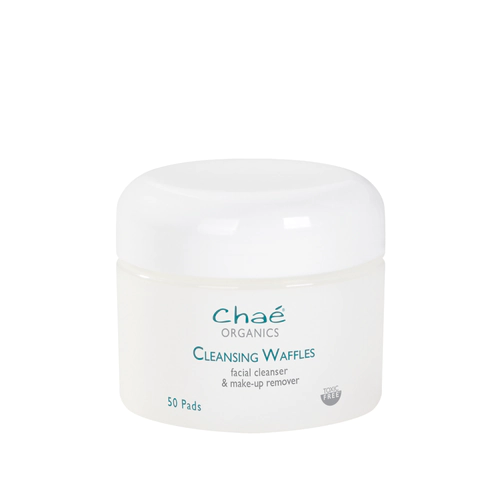 Cleansing Waffles – Facial Cleanser & Makeup Remover – 50 pads
Pre-Moistened.
One step Quick Cleansing or for use before regular cleansing.
Textured for efficient removal of dirt and makeup.
Oil-Free.
Alcohol-Free
Description
Introducing our revolutionary Cleansing Waffles, a game-changing facial cleanser and makeup remover that takes skincare to a whole new level of simplicity and effectiveness. These innovative waffles are designed to provide a gentle yet thorough cleanse, effortlessly removing makeup, dirt, and impurities, leaving your skin feeling refreshed and rejuvenated.
Crafted with the highest quality materials, our Cleansing Waffles are super soft and gentle on your skin, making them perfect for even the most sensitive complexions. The unique waffle texture is designed to trap and lift away makeup and grime, allowing for a deep and thorough cleanse that goes beyond traditional facial cleansers.
Say goodbye to harsh chemicals and irritating makeup removers that can strip your skin of essential moisture. Our Cleansing Waffles are made with eco-friendly and skin-friendly materials, ensuring a safe and non-toxic cleansing experience that nourishes and protects your skin's natural balance.
Whether you're at home or on the go, our Cleansing Waffles are the perfect travel companion. Individually packaged for maximum convenience and hygiene, they fit effortlessly into your bag or toiletry kit, ensuring that you can maintain your skincare routine wherever life takes you.
Experience the ease and efficacy of our Cleansing Waffles and let them revolutionize your cleansing and makeup removal ritual. Embrace the simplicity of a single product that delivers results beyond your expectations, leaving you with a radiant and fresh-faced complexion.
Transform your skincare routine with our Cleansing Waffles, the ultimate fusion of convenience, effectiveness, and skin-loving care. Elevate your cleansing experience and savor the joy of a cleansed, nourished, and glowing complexion with every use. Try our Cleansing Waffles today and discover the secret to truly transformative skincare.
Using Cleansing Waffles twice a day leaves your skin clear, smooth, and even-looking. Gentle enough for use around the eyes and for everyday use including for sensitive skin. So easy to use, Chaé's Cleansing Pads are ideal for teens and adults. Used regularly, these pads will improve the texture, clarity, and radiance of your skin. Because cleansing is so easy it is not avoided due to a busy schedule.
How to Use
Hold pad over eye area to soften mascara; fold pad in half over lashes to remove. Use folded corner to remove eyeliner.
Toxic Free Ingredients
Purified Water (Aqua), Aloe Barbadensis Leaf Juice*, Carthamus Tinctorius Seed Oil, Vegetable Glycerin, Sodium Lauroyl Methyl Isethionate, Saccharide Isomerate, Epilobium Angustifolium Extract, Benzyl Alcohol, Allantoin, Caprylyl/Capryl Glucoside, Ethylhexylglycerin, Cocamidopropyl Hydroxysultaine, Benzoic Acid, Microcrystalline Cellulose, Cellulose Gum, Xanthan Gum, Citrus Aurantium Dulcis Oil*, Pelargonium Graveolens Oil*, Myrciaria Dubia Fruit Extract*, Dehydroacetic Acid, Lavandula Angustifolia Oil, Olea Europaea Leaf Extract, Avena Sativa Kernel Extract, Tocopherol.
* Organic
Hero Ingredients
Glycerin (and) Water (and) Avena Sativa (Oat) Kernel ExtractClinical studies have proven that oats help dry and itchy skin, reduce heat and alleviate redness.Clinically proven therapeutic activity from this extract's high levels of polyphenols and anthocyanins.Powerful natural anti-oxidant and anti-irritant properties.Soothing agent.
Aloe Vera (Aloe Barbadensis) Leaf Juice
Maintains the highest levels of polysaccharides, amino acids and minerals.
It is an acetylated polymannose known as Acemannan, whose structure and functional effects have been very well established.
Myrciaria Dubia (Camu Camu) Fruit Extract
Amazon red fruit contains the highest concentrations of Vitamin C of any fruit or berry in the world.
Camu Camu averages 2700 mg of Vitamin C in 100 Grams of fruit as compare to Oranges at 53 mg of Vitamin C in 100 Grams, and Grapefruit at 34 mg of Vitamin C in 100 grams.
Improves the texture, clarity and radiance of your skin.
Q & A
There are no questions yet