Sale!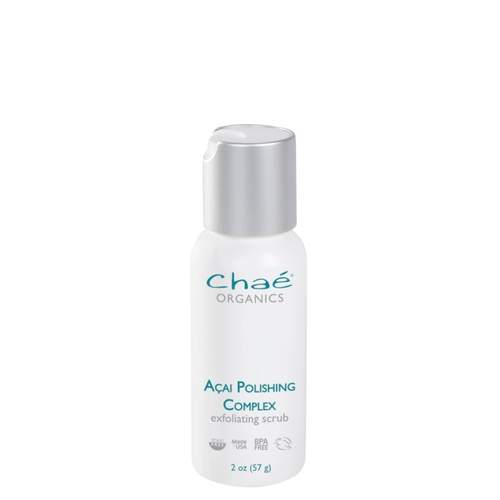 Release your skin's glow and beauty with this gentle exfoliating micro-scrub.
Lightweight, fine particles remove dead skin cells, eliminating dull, uneven skin tones
Açai flavonoids infuse antioxidant power, supporting your skin's defense against environmental stessors
May help reduce inflammation, leaving skin radiant, smoother, and healthier looking.
Excellent for all skin types
Description
Açai Polishing Complex is a feather-light, nutrient-rich exfoliating complex formulated to lift away dead skin cells to reveal the fresh, healthy skin beneath. Rich with the antioxidant power of Açai berries, skin-brightening fruit acids, micro-exfoliating pumice, and nutrient-rich glacial minerals, this complex brightens and lifts skin with almost no scrubbing.
You will feel and see the Açai berry particles in this formula. Allowing Açai Polishing Complex to sit on your skin for a few moments removes the buildup of dead cells, allowing these nutrient-rich substances to penetrate and enrich the skin beneath.
Your exfoliated skin will feel refreshed to may assist better absorption of our Chaé Serums & Moisturizers.
The result is more radiant, smoother, healthier-looking skin with improved texture, reduced dryness, and less tendency to develop fine lines and wrinkles.
How to Use
Directions: Smooth over skin with fingertips. Allow 5-20 minutes for the activated charcoal to draw out toxins, then wipe the mask off with a warm wash cloth or rinse off in the shower. Use 1 to 2 times per week.
Toxic Free Ingredients
Calcium Carbonate, Purified Water (Aqua), Vegetable Glycerin, Propanediol, Carthamus Tinctorius Oleosomes, Helianthus Annuus Seed Oil, Benzyl Alcohol, Citrus Aurantium Dulcis Oil*, Simmondsia Chinensis Seed Oil*, Activated Carbon, Sodium Acrylates Copolymer, Citrus Grandis Peel Oil*, Citrus Limonium Oil*, Phytic Acid, Xanthan Gum, Benzoic Acid, Lecithin, Dehydroacetic Acid, Passiflora Edulis Seed Oil, Oriza Sativa Rice Bran Oil, Euterpe Oleracea Pulp Oil, Orbignya Oleifera Seed Oil, Thymus Vulgaris Flower/Leaf Extract, Buddleja Davidii Extract, Tocopherol.
* Organic
Hero Ingredients
Aloe Vera (Aloe Barbadensis) Leaf Juice

Maintains the highest levels of polysaccharides, amino acids, and minerals.

It is an acetylated polymannose known as Acemannan, whose structure and functional effects have been very well established.