COMPLETE REGIME GUIDE
5 simple steps – with morning / night options
1 – CLEANSE / EXFOLIATE
2 – MIST / TONER
3 – SERUM
4 – MOISTURIZE / SUN PROTECTION
5 – FIRM / REJUVENATE

CLEANSE: 
Chaé offers cleansers for every skin type & condition according to what your skin loves best.

Directions: Night cleansing is vital for removing makeup & toxins. Morning cleansing promotes optimal uptake of moisturizers & nutrients. Massage small amount onto skin with light circular motion. Leave on skin up to one minute for a "deep cleanse". Rinse with warm water or remove with a damp cloth.

EXFOLIATE:
Açai Polishing Complex Use once or twice a week as an exfoliating scrub. Exfoliation can replace morning cleansers if you removed make-up the night before.

MIST / TONE
Oxygenating tonics & flower water infusions are ideal immediately after cleansing to prepare skin for next step. Apply for a renewing boost any time during the day. Hold 12-18" from face & spray lightly (Drenching is not better). Allow skin to dry before next step.

SERUMS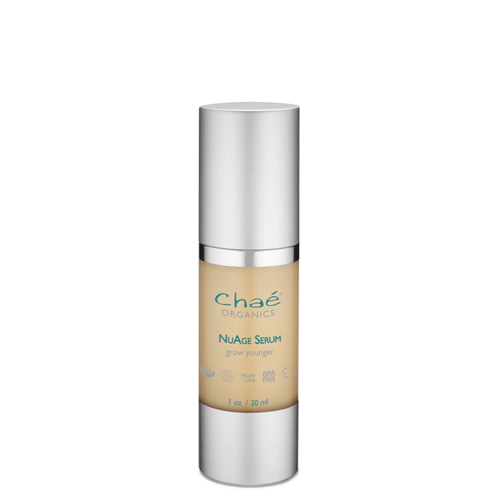 Serums are formulated to be sheer and penetrate to deeper cell layers including the "mother cell" which reproduces monthly, creating new skin cells. Serums immediately release cosmeceutical nutrients, as compared to moisturizers which are designed to release nutrients slowly while maintaining protection on the skin's surface. Optimal treatment may be a different serum / moisturizer in the morning versus evening.

MOISTURIZE / SUN BLOCK
After applying the appropriate serum, follow with a moisturizer – These formulas are designed to provide moisture supply and protection for 12 to 14 hours. Chaé moisturizers do not contain damaging emulsifiers. * (see below)

SUN PROTECTION:
Safe4U™ SPF 30+ Face & Body Sun Block – Directions: After you apply moisturizer and to maintain your youth and play it safe in the sun, apply for an added level or protection. Perfect for all ages, all skin types and all year round.

FIRM / REJUVENATE

VitalEyes™
Firms / tightens eye area up to 200% with a firming, lifting film that provides optimal results when applied after other serums. It can be slightly sticky for a minute as natural ingredients penetrate while an invisible lifting film forms. For optimal results, gently lift and hold skin taut while gel dries. Apply morning and evening.

NuAge™ Serum
(Anti-Aging) provides immediate visual benefits while regenerating aging skin. Apply to entire face and neck.

NuYu™
NuYu™ (Instant Facelift) is applied after NuAge™ Serum in the lines and wrinkles only and provides and instantly lifts in 3-5 minutes, lasting 6-8 hours for fewer stress lines, wrinkles, and imperfections. After 5 days, NuYu™ creates 17 times more collagen cells, rebuilding skin structure for a clear ageless look. Use Nu-Yu or Vital Eyes, not both.

Tip – If you want the ultimate anti-aging, firming treatment, layer NuYu™ Serum and / or VitalEyes™ after Step 4. The firming action after application of these products forms a film that tightens and lifts the skin, thus it's best not to rub your skin after application. If you are applying foundation, use equal parts foundation and our NuAge Serum™ or NuYu Serum™ and mix into the palm of your hand (about the size of a dime each). Gently pat them onto your skin; do not rub them in.

Why Chaé Products Work So Well
With Oleosome Stability you can enjoy the benefits of Chaé's emulsifier* free system*Most emulsifiers used to bind ingredients together in cosmetics contain known toxins.

We use Carthamus Tinctorious (Safflower) Oleosomes (Oleosomes are a ToxicFree™, plant-derived natural binding ingredient)

Safflower oil and safflower protein molecules that act like a liposome (used to convey ingredients to specific cells) thus creating a gel network for making extraordinarily mild, emulsifier free, cold process serums, lotions and creams. The advantage is the ability to eliminate the drying effects of most emulsifiers.

Chae's Oleosome Serums and Moisturizers will give you:
o Improved Skin Health: Rebuilds the skin barrier faster by retaining skin lipids (the natural fatty oil in skin that conserves water).
o Superior Moisturization: Improves uptake of moisture twice as fast as non-ionic based emulsions.
o Long Lasting Performance: Extends absorption of moisturization and active ingredients.