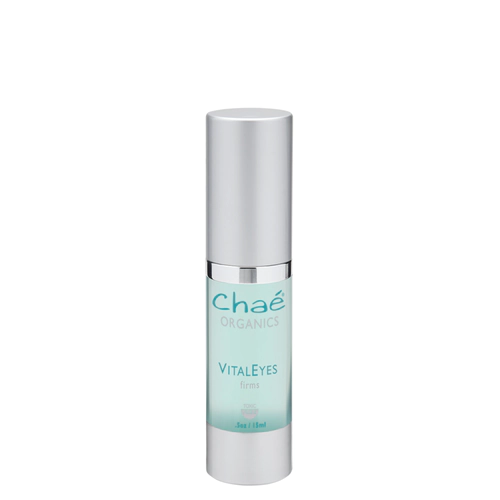 Firms
Tightens the skin immediately for a quick renewal

Used over the long term, may help strengthen the delicate eye areas skin connective tissue

Plankton Extract may provide instantly fuller, firmer skin with results lasting up to six hours
Our proprietary, botanical "facelift without surgery" blend synergistically boosts skin's natural renewal processes
Description
Wake up younger, today and tomorrow. VitalEyes™ 0.5oz is an incredible, unique treatment that instantly brightens and tightens the eye area, and continues providing long-term benefits the more you use it. Clinical studies have confirmed up to 165% collagen repair and synthesis—a miraculous renewal for tired eyes. VitalEyes™ may help with smoothing deep wrinkles, strengthening your skin's connective tissue, and protecting skin from oxidative stress. The delicate skin surrounding the eyes is easily stressed and weakened, and without treatment will form fine lines, wrinkles, and sagging skin. VitalEyes™ tightens and firms the eye area within minutes, but the real effect is in the long-term collagen renewal that helps your skin maintain its natural youth and vibrance.
How to Use
Directions:
Gently dot a very small amount around your eye and eyelid, being careful not to rub or stretch this delicate skin. You may apply VitalEyes™ to dry lips and around mouth area if desired.
For deep, all-over results, VitalEyes™ can be used as a face moisture treatment under other Chaé moisturizers, or on its own as a leave-on masque.
Toxic Free Ingredients
Purified Water (Aqua), Sodium Hyaluronate, Citrus Aurantium Amara Flower Water, Pullulan, Malachite Extract, Hydroxyethylcellulose, Hydrolyzed Manihot Esculenta Tuber Extract, Sodium Benzoate, Methylsulfonylmethane, Glucosamine HCL, Pisum Sativum Extract, Bambusa Vulgaris Extract, Vegetable Glycerin, Potassium Sorbate, Plankton Extract, Nannochloropsis Oculata Extract.
* Organic
Hero Ingredients
Algae (Nannochloropsis Oculata) Extract (and) Pullulan (Plant Polysaccharide)

Clinical studies have shown:

Tightens the skin immediately and has in parallel a long-term effect strengthening the skin's connective tissue.

Acts preventively as a protection shield against oxidative stress.

Strengthens the connective tissue by increasing the formation of collagen.

Sodium Hyaluronate

Clinical studies have shown:

Hyaluronic acid naturally moisturizes skin from the inside out, smoothing out wrinkles in the process.

Hyaluronic acid as a nutraceutical acts to hydrate the skin and restore vitality in aging skin.

Hyaluronic Acid has the ability to bind 1,000 times its weight in water, especially important in maintaining optimal lubrication in spaces between cell membranes while promoting moisture retention.

Bambusa Vulgaris Extract (and) Pisum Sativum (Pea) Extract (and) Glucosamine HCL

Clinical studies have shown:

Pea extract has vital amino acids & proteins necessary for the production of collagen and elastin.

Reinforces the skin's natural defense in fighting free radicals.

Glucosamine is a natural skin exfoliator that activates the dermal fibroblasts.

Results in accelerated skin renewal with reduction of wrinkles & lines.

These 3 ingredients work in synergy to increase collagen, Hyaluronic acid, and cell proliferation while creating firmer skin and decreasing wrinkles

Plankton Extract

Clinical studies have shown:

Instant Filler

Results seen within 15 minutes

Reduces fine lines and wrinkles

Plankton has an immediate effect on fine lines results maintaining after 6 hours.
Q & A
There are no questions yet