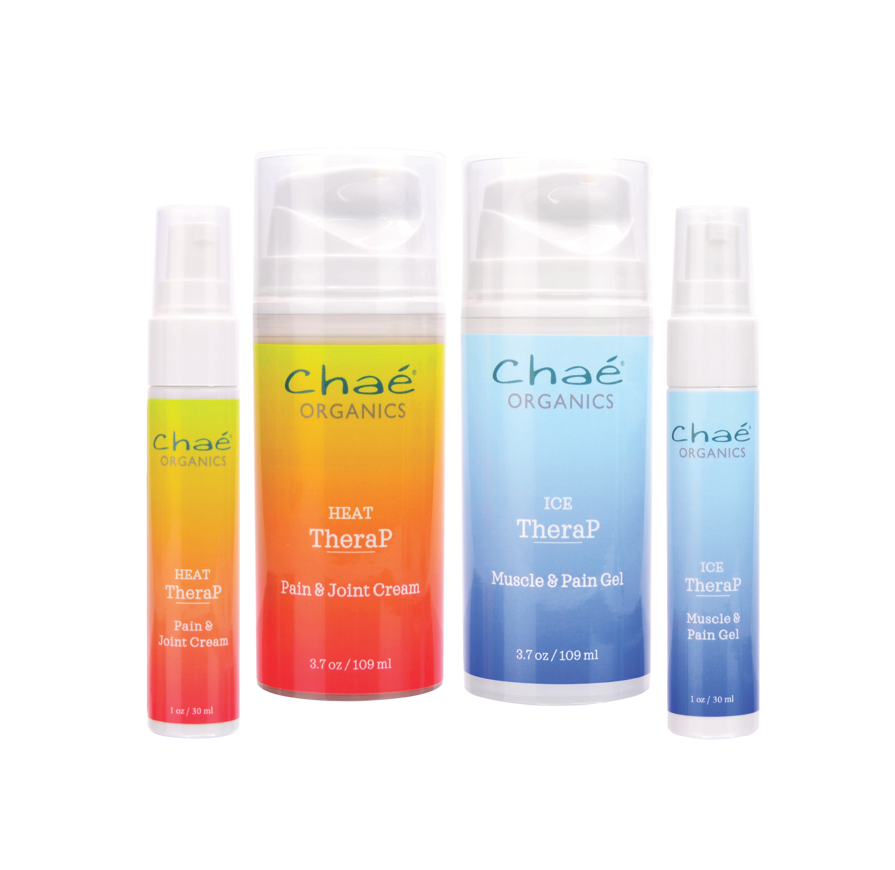 Chill With ICE TheraP Muscle and Joint Gel and Get Fired up With HEAT TheraP Muscle and Joint Cream
Everyday Activity
Sometimes your muscles and joints can feel stiff, achy, or sore. Doing chores or exercising, whether strenuous or low-impact, can bring about a stiffening in the joints and/or sore muscles. As much as we are reluctant to admit it, just the fact that we get older contributes at times to instances of pain in the joints and muscles. Everyday activities such as raking leaves in the fall, tending to a flower garden in the spring, and maintaining the lawn all summer can bring about that nagging soreness and achiness. We need something to relieve the pain. Experts tell us that applying cold compresses to these sore and achy muscles helps to alleviate the pain. Ice, freezer packs, or even a package of frozen vegetables helps to constrict blood vessels, numb the pain, relieve and suppress inflammation. Over-the-counter pain medication might help, too. Or, perhaps a good topical gel or cream applied directly to the areas that are sore and achy might be just what is needed.
Weekend Athletes: Ice, Heat, or Both
We all lead such busy lives! Weekends provide the time to unwind from the stresses of our work week and engage in our hobbies and passions. We might belong to and participate in a flag football league. Maybe we rise early and drive to make our eight o'clock tee-time at the municipal course, put on our running shoes and jog through the park, or maybe spend the day hiking through a new trail. Whatever we are engaged in, we do it for relief and enjoyment. But sometimes accidents do happen. A sprained ankle trying to catch a pass, a tweaked back muscle taking a mighty swing on a long par 5, a strained calf muscle while jogging, or an aching knee while hiking. Experts tell us that if the injury is relatively new, choose COLD as the topical treatment Use an ice pack on the injury to reduce pain and inflammation. Looking at the image on the left, icing is appropriate but seems pretty inconvenient, having to hold the ice in place. An icy gel topical application that serves the same purpose would be more convenient and provide more freedom of movement. Sports medicine professionals do not recommend heat on these types of injuries. Cold should be applied after exercise or activities that can cause soreness or stiffness to prevent flare-up of inflammation. Heat can be applied, they say, prior to physical activity to aid in warming up muscles and making them less tight.
What About Heat and Pain?
Chronic pain can be so very irritating! It can limit our ability to go about our daily business comfortably, maybe causing inflexibility and stiffness in the muscles and joints. There are many causes of chronic pain, from an old injury or illness to arthritis and the goal of everyone experiencing chronic pain is to manage it effectively, Doctors recommend that sufferers do stretching exercises, stay active, and practice relaxation techniques. Applying heat treatments, such as heating pads against the problem areas, also helps. Applying heat to the painful areas help to relax muscles, loosen stiff joints, and improve range of motion. Heat also assists in reducing pain in aching joints. Another option is to rub on a heating cream topical that allows for mobility rather than lying or sitting idle with a heating pad against your body. Another benefit of applying a topical cream is that it is absorbed rapidly into the muscles and joints. Applying a topical heat cream to muscles and joints prior to exercise is beneficial in that it 'warms up' and loosens tight muscles.
What users say about Ice TheraP Muscle and Joint Gel and Heat TheraP Muscle and Joint Cream
"I sent in my review because I have never found anything that works as well as ICE TheraP. I applied it to my lower back and felt so much better right away."
Joseph P., Austin, TX
"I keep the pocket size ICE TheraP in my pocket wherever I go and I apply it to my knees after my daily jog. It works!"
Jenny V., Cleveland, OH
"So much more convenient than a heating pad against my shoulder! Soothing and I can stay busy and active."
William J., Tulsa, OK