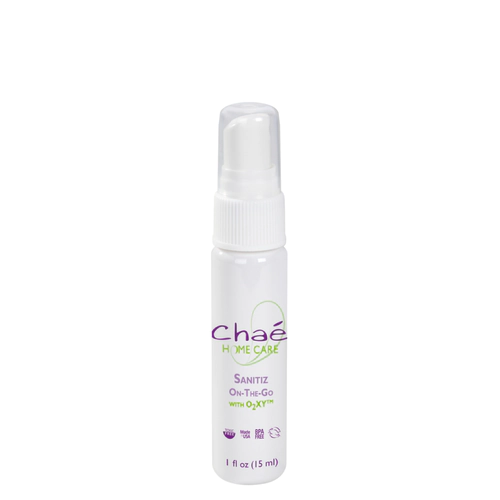 Sanitiz On-The-Go – Travel Size Sanitizer
Sanitizer For Life
Does not dry or irritate skin and eyes
Safe to use all over, for the whole family and pets
O2XY™ stabilized oxygen deters microbe activity
No toxins or chemical perfumes
Description
Don't waste your time or risk your health with harsh, ineffective sprays! Our quick and easy Sanitiz On-The-Go 1oz is safe for you and your family, safe for most fabrics, even non-irritating to the eyes. With our O2XY™ double-bond oxygen formula, Sanitiz on the Go smothers microbes and deters their activity, without harming your own health. This technology has been used for decades in water purification and is known to be effective against bacteria and viruses. Also helps neutralize odors, and our naturally derived formulation is highly biodegradable.
1 oz
How to Use
Directions: 
Sanitiz hands: mist your palms, back of hands, and under nails. Let dry.
Sanitiz hard surfaces: spray generously to saturate or cover the surface. Allow 30-60 seconds for best results, or let dry completely.
Sanitiz and soothe: for scrapes, wounds and abrasions, hold Sanitiz On the Go several inches from the wound, and spray directly onto skin. Repeat often, as needed.
Odors and contaminated air: mist generously into the air to freshen.
Spot treat clothing and fabric: test on an inconspicuous area before spraying directly on fabrics.
Toxic Free Ingredients
Purified Water, Sodium Chlorite (Stabilized Chlorine Dioxide)***, Sodium Lauroyl Sarcosinate (Coconut Derived).
***Cleansing agent that breaks down into a natural, biodegradable solution.
Hero Ingredients
Sodium Chlorite (Stabilized Oxygen)

Non-toxic. Free of chemical toxicity present in most disinfectant and deodorizing products.
Powerful antimicrobial compound effective against a broad range of bacterial organisms, yeast, mold, and mildew.
Ideal for all skin types.
Soothing effect on irritated, inflamed skin.

Purified Water

Water Softening
2 Charcoal Filters
Reverse Osmosis
Deionization
Ultra Violet Light
Continuous circulation of purified water to ensure optimal results.
Q & A
There are no questions yet