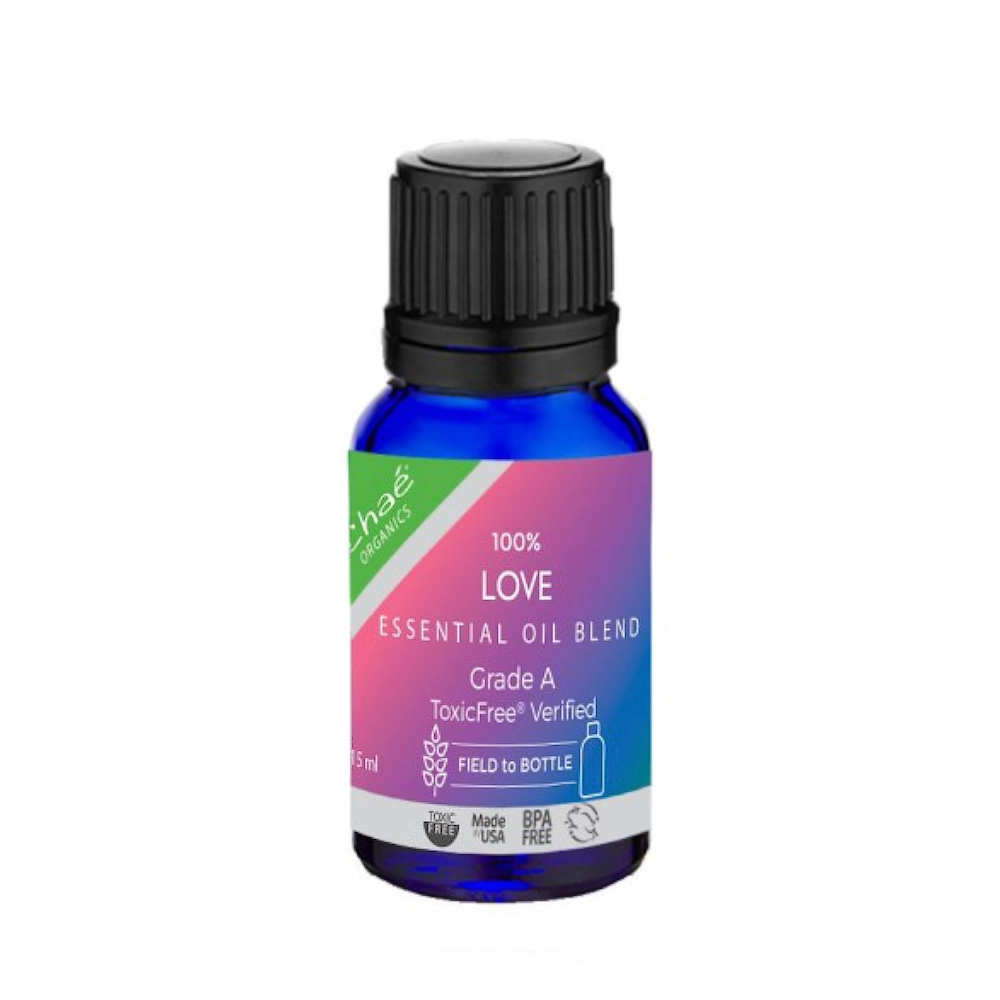 Experience a new way to Love.
Helps invoke an uplifting sense of belonging, compassion, confidence, gentleness, and adaptability.

Feel renewed with the help of better rest, better digestion, better communication, and more positivity.

Helps increases our ability to restore and replenish, lowering our likelihood of burning out or behaving reactively.

Soothed nerves and spirit can more easily offer forgiveness to self and others, lowering likelihood of critical attitudes.

Enjoy less stress, more spontaneity, increased passion, and more confidence (resulting in an aphrodisiac effect in many).
How do you foster within yourself a state of endless possibilities and incredible openness? Our pure Chaé Organics Love Essential Oil Blend is designed to evoke a spirit of compassion and loving kindness within yourself and others by nurturing a sincere sense of belonging. The deep, genuine connection with your own heart that this blend reinforces can help you to radiate pleasure and patience, which can positively impact every opportunity and relationship in your life. It helps efficient, hard-working people be less critical when mistakes happen and less irritable when things don't work out. Whether you are seeking satisfaction and success at home, at work, or while off on adventures, this blend is an emotional rescue remedy that helps evoke joy, optimism, faith, forgiveness, and adaptability. Our Love Essential Oil Blend creates a beautiful, fresh, and calming aroma with notes of citrus and floral mingling together to create a light, sweet smell that is reminiscent of a blooming garden. A hint of earthy vetiver and a creamy touch of coconut give the scent a warm and inviting feel. Overall, this blend of essential oils is perfect for creating a peaceful ambiance full of love and light.
15 ml Love Essential Oil Blend
Description
This Love Essential Oil Blend is designed to evoke a spirit of compassion and loving-kindness within yourself and in relationships. This blend is for you to use when you desire to have more satisfying relationships personally and in business. It is an emotional rescue remedy that helps evoke optimism, joy, and adaptability. You can use this blend to help discover spontaneity and a positive outlook. It helps efficient, hard-working people be less critical and irritable when mistakes happen.
About our Essential Oils:
ToxicFree® Verified Grade A Essential Oil means Field to Bottle that all processes have been verified to ensure no chemical solvents are used in the extraction of our oils including propylene glycol. We use only premium oils derived from the optimal plant source. For example, our lavender is only from the flowers, we don't use the stems or stalks as less desirable components.
Key Benefits
For more satisfying relationships
Helps provide a deep sense of belonging
Nurtures confidence
Increases our ability to restore & replenish
Can provide aphrodisiac benefits
Designed to evoke a spirit of compassion
Loving, kindness for self and others
Discover spontaneity
Positive outlook
Helps you to become more efficient
Helps hard-working people be less critical and irritable when mistakes happen
How to Use
General Environmental Enhancement
DIFFUSE or mist in any room – home, office, car, classroom – for serenity, to release tension and relax
Skin
1-2 drops to your body lotion and apply daily to enhance your calm
Mix carrier oil with 5 drops of Chaé Love Oil Blend PURE and apply directly to pulse points
Aromatherapy
5-6 drops Chaé Love Oil Blend PURE with carrier oil and massage into skin for relief, sensuality, and reprieve
Respiratory
2-3 drops Chaé Love Oil Blend PURE to palms and rub on throat, chest, and wrists
Emotional Stagnation
3-4 drops Chaé Love Oil Blend PURE to and apply to temples, throat, and stomach to help release pent-up emotions
Room Freshener/Deodorizer
5-6 drops Chaé Love Oil Blend PURE to spray bottle with water and use as a natural deodorizer
†These statements have not been evaluated by the Food and Drug Administration. This product is not intended to diagnose, treat, cure or prevent any disease
PURE: Love Oil Blend can be used directly on skin. PURE means full strength. Use wisely as it is not appropriate to use any Essential Oil in the immediate eye area or on sensitive areas. It is safe to apply this oil PURE on the bottoms of feet, palms of hands & wrists pulse points if your physician has given no restrictions on use.
DILUTE: Since this Essential Oil Blend is quite POTENT, you will generate beneficial results by diluting it in carrier oil (any vegetable oil you prefer).
DIFFUSE: Add drops as desired to your diffusing method of choice and enjoy.
ORAL: Essential Oils should never be taken internally unless prescribed either by a physician or a qualified practitioner who has trained & been certified in medical standards.
Recipes
Mist
Water:  Add approximately 8-10 drops per ounce of water.  Oil will float on top so shake well to mix before misting. Avoid eyes.  Test before spraying on fabrics
Alcohol:  Add approximately 15+ drops per ounce of vodka, gin, or Everclear.  The essential oil will dissolve in alcohol.  Do not spray near eyes or open flame.
Massage or Skin Oil: Add approximately 5-10 drops per ounce into a lightweight, odor-free oil, such as coconut, or fractionated coconut oil often called MCT oil.  Any Chaé PURE Essential Oil is a companion oil and can be added one drop at a time using additional carrier oil.
Durability Tonic
6-8 drops Chaé Love Oil Blend
2-3 drops Chaé Birch PURE
1-2 drops Chaé Cypress PURE
3-4 drops Chaé Lime PURE
1-2 drops Chaé Peppermint PURE
1-2 drops Chaé Thyme PURE
1 cup water. Add all to a fine mist spray bottle.  Shake well/often and spray on yourself, clothes, furniture, in cars, etc.
Grade-A ToxicFree® Certified
100% PURE Essential Oil Blend: [Citrus Aurantium Bergamia (Bergamot) Fruit Oil*, Lavandula Angustifolia (Lavender) Oil*, Citrus Aurantium Dulcis (Orange) Oil*, Pelargonium Graveolens (Egyptian Geranium) Oil*, Pelargonium Graveolens (Geranium Rose) Oil, Cananga Odorata Flower (Ylang Ylang) Oil*, Jasminum Officinale (Jasmine) Flower Oil*, Melissa Officinalis Leaf Oil , Vetiveria Zizanoides (Vetiver) Root Oil, Rosa Damascena (Rose) Flower Oil*, Citrus Aurantium Amara (Neroli) Flower Oil, Elettaria Cardamomum (Cardamom) Seed Oil] infused in Vanilla Planifolia (Vanilla) Fruit Extract (and) Cocos Nucifera (Coconut) Oil* (and) Caprylic/Capric Triglyceride (Coconut Derived)**.
*Organic **Ecocert and/or Internationally Approved
Leaping Bunny Certified
Since 1996, the Leaping Bunny Program, operated by the Coalition for Consumer Information on Cosmetics in the US and Canada, has been connecting compassionate consumers to cruelty-free companies under its Corporate Standard of Compassion for Animals. Companies must pledge to end animal testing at all stages of product development in addition to recommitting to the program annually and being open to third-party audits.
Weight 0.11875 lbs
Cautions
PREGNANCY:  There is warranted caution to be very careful during pregnancy.  Please consult your physician prior to use. If told not to apply to skin, then inquire regarding permission to smell the Essential Oil.
SKIN SENSITIVITY / PHOTOTOXICITY: Even though our Love Oil Blend isn't considered a photosensitive Essential Oil, it is advised not to apply any Essential Oil on areas that are immediately being exposed to direct UVA, UVB radiation unless highly diluted with additional carrier oil.  FYI: Besides some Essential Oils, certain prescription medications may also cause photosensitivity. Please consult your physician prior to use if prescribed any potential photosensitivity medications.
Keep Essential Oil bottles out of reach of children. It is prudent to use caution when using Essential Oils as they are POTENT and thus require wisdom in discerning when and where to use them. In some countries Essential Oils are used medicinally, hence the reason to be prudent.
Video
Q & A
There are no questions yet
You must be logged in to post a review
Log In
| | | |
| --- | --- | --- |
| 5 star | | 0% |
| 4 star | | 0% |
| 3 star | | 0% |
| 2 star | | 0% |
| 1 star | | 0% |
Sorry, no reviews match your current selections