Sale!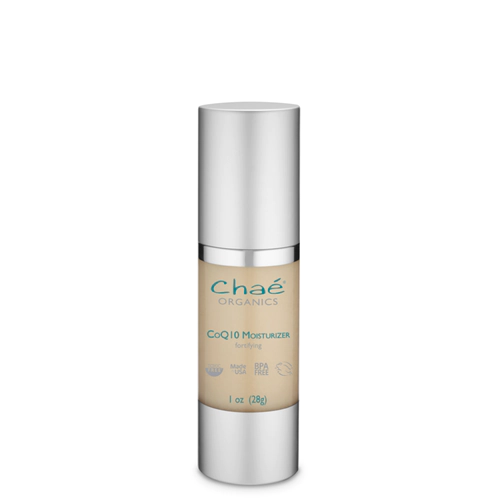 Fortifying
Vitamin E and Q10 (Squalane and Ubiquinone) work synergistically as an antioxidant defense system
The biomimetic peptide caprooyl tetrapeptide-3 boosts the production of key components of the skin structure
Hyaluronic acid can bind 1,000 times its weight in water, especially important in maintaining optimal lubrication between cell membranes while promoting moisture retention
Description
Do not leave the longevity of your skin to chance. CoQ10 Moisturizer fortifies skin's natural defenses with this supremely effective anti-aging treatment. CoQ10 (Ubiquinone) supports skin resiliency and wards against oxidative stress. To this powerful defender, we have added boosts of biomimetic peptide, ethyl ascorbic acid, raspberry, and hyaluronic acid to help keep your skin firm, hydrated and supple. This uniquely constructed formula can result in visibly younger-looking, hydration-storing skin with reduced dryness, flakiness, and roughness.
1oz
How to Use
Directions:  Gently massage rich, moisturizing lotion onto face, neck and back of hands using care around the delicate eye area. Can be applied in the morning, and evening or alternate with a second Chaé moisturizer in the a.m. or p.m.  Apply after your favorite Chaé Serum*
Eracer/Perfection Serums for uneven/problem skin.   NuAge Serum ideal for mature skin.
Toxic Free Ingredients
Aloe Barbadensis Leaf Juice*, Purified Water (Aqua), Cetearyl Olivate, Carthamus Tinctorius Oleosomes, Glycerin, Sorbitan Olivate, Squalane, Argania Spinosa Kernel Oil*, Propanediol, Ethyl Ascorbic Acid, Benzyl Alcohol, Glyceryl Stearate SE, Ectoin, Glyceryl Glucoside, Caprylic/Capric Triglyceride, Simmondsia Chinensis Seed Oil*, Dimethicone, Hydroxyethylcellulose, Cetyl Palmitate, Panthenol, Propanediol, Sorbitan Palmitate, Sorbitan Olivate, Rubus Idaeus Seed Oil, Ethylhexylglycerin, Hippophae Rhamnoides Fruit Oil*, Xanthan Gum, Glucosamine HCL, Sodium Hyaluronate, Citrullus Lanatus Fruit Extract, Benzoic Acid, Citrus Paradisi Peel Oil*, Pisum Sativum Extract, Pyrus Malus Fruit Extract, Avena Sativa Kernel Extract, Dehydroacetic Acid, Lens Esculenta Fruit Extract, Bambusa Vulgaris Extract, Tocopheryl Acetate, Helichrysum Angustifolium Flower Oil, Anogeissus Leiocarpus Bark Extract, Sodium PCA, Myrciaria Dubia Fruit Extract*, Sodium Lactate, Ubiquinone, Cocos Nucifera Oil, Lavandula Angustifolia Oil, Tocopherol, Dextran, Trifluoroacetyl Tripeptide-2.
* Organic
Hero Ingredients
Squalane (and) Ubiquinone (and) Tocopheryl Acetate

Vitamin E and Q10 are both powerful antioxidants.
Q10 is a part of the inner mitochondrial membrane, where it supports cellular energy production.
Q10 restores the lipid barrier to assist full cell membrane functionality.
Q10 makes the skin look and feel firmer, softer, and well-toned.

Vegetable Glycerin (and) Water (and) Dextran (and) Caprooyl Tetrapeptide-3

This Biomimetic Peptide ingredient boosts the production of key components of the DEJ (dermal-epidermal junction).
It assists in creating optimal skin structural support and activates natural skin rejuvenation.
90% overall positive results in studies after 56 days.
Clinical studies have shown:

This Biomimetic Peptide ingredient boosts the production of key components of the DEJ (dermal-epidermal junction).

It assists in creating optimal skin structural support and activates natural skin rejuvenation.

90% overall positive results in studies after 56 days.

Significant reduction in the appearance of fine lines & wrinkles by 16% after only 28 days.

Optimal skin penetration provides a smoother, firmer & more even skin tone.

Significant reduction in the appearance of fine lines & wrinkles by 16% after only 28 days.
Optimal skin penetration provides a smoother, firmer & more even skin tone.

Ethyl Ascorbic Acid (Vitamin C Derived-Antiradicalic & Balancing)

Effective and stable skin lightening agent
Balances skin tone
Increase collagen synthesis
Reduce dark spots